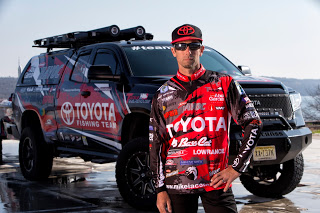 Name: Mike Iaconelli  
Describe your profession: 
I fish professionally. When I say that, most people think of commercial fishing like what you see on Nat Geo. But I'm a bass tournament angler. My job really has two parts. The first is actually competing in bass tournaments all across the country. Like golf or tennis, I have to compete against other top-ranked professionals in the world. The second part of my job is representing and promoting various brands and the products they produce.
What social causes are most important to you? 
I have a few, but youth fishing and fishing awareness are my top two.
What charity do you support – and how?  
I have supported many charities over the years, but I now have my own foundation called the Ike Foundation. The Ike Foundation was set up to help get new people introduced to the sport of fishing and in particular, to help kids learn about the sport. Our foundation does this through product and monetary donations to existing youth fishing groups, and through organizing and creating new fishing clubs and groups across the country. In addition, we focus on kids and areas where fishing is not necessarily a big activity or pastime. The foundation has also been fortunate in its short existence to have tremendous corporate supporters who share a common mission, like Toyota.
Please share your passion for this organization. What are your personal ties and how did the organization originate? 
I'm super passionate about the Ike Foundation and this cause because it ties directly to my youth and growing up right outside of Philadelphia, PA. As a kid and teen, fishing helped steer me clear of potentially bad situations and helped me learn a tremendous amount of important life lessons. I want to be able to let as many people and kids have the same positive fishing experiences as I had.
Is there a particular way you would want to encourage readers to be involved in your cause? 
The biggest way is to simply take the Ike Foundation pledge. The pledge is nothing more than printing out a certificate and signing it. The certificate states that the signer will take someone fishing that has never been fishing before – this can be a friend, neighbor, cousin, co-worker, etc. Also, the Ike Foundation and the kids' fishing organizations we work with need equipment. We gladly take donations of gently used rods and reels and also accept monetary donations that go directly to supporting these groups!
How would you define social responsibility? 
I would define social responsibility as taking action to change society in a good way!
Tell us about your tattoos: 
I have ink on both biceps. On my right bicep is leaping largemouth bass. This represents my passion and commitment to the sport of bass fishing. On my left bicep is a "circle of life" geometric piece. This represents my belief in the natural order of things and how each part is important to a bigger whole. And my full-back is done. This piece represents my entire life and experiences. It includes a tree of life in the center flanked by a gargoyle on the right side and an angel (St. Michael) on the left. It is all brought together by columns and bridges that connect the different parts. All art was done by Dave DiGiacomo at Mystic Eye Tattoo, formerly in NJ and now in LA.