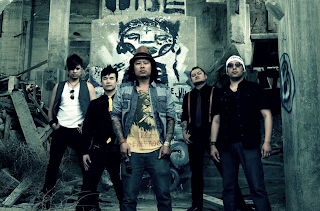 Name: Simon Young
What is your job? I play bass for The Slants
What social causes are most important to you? I'm passionate about justice. Whether it is racism, bullying, sexism, homophobia, or inequity caused by corruption, I think there's definitely something that we can do to make this world a better place. For the past few years, our brand has been helping rescue refugees from North Korea and raising money for cancer research.
What charities do you support – and how?
Liberty in North Korea: I donate money and help raise awareness of the human rights crisis in North Korea.
The Trevor Project: I donate 50% of my income from consulting work towards this charity.
Basic Rights Oregon: I volunteer for events, donate financially, and work with them to fight for things like trans rights, marriage equality, and gender/sexual education.
APANO: I volunteer quite a bit to fight for Asian American issues in the state; we host events, the lobby at the capitol, and also raise awareness of issues. I also support them financially.
OPB (Oregon Public Broadcasting): This is our state's public radio chapter. I'm a supporting member, contribute to their Insight network, participate in discussions in person and online, and help with other resources.
American Cancer Society: I was a former manager there and helped raise nearly $700,000 for research and services to cancer survivors. I volunteer at events, donate money, help promote researchers, and lobby for the Cancer Action Network.
Why do you have a passion for these, is there a personal tie?
As an Asian American, I grew up knowing what it was like to be treated differently, to have a different set of rights than those around me and was subjected to bullying and humiliation simply because of my identity. It can be a cruel world but I want to make it a little better place before I go.
Is there a particular way you would want to encourage readers to be involved?
The most important thing you can do is to show up. Find something that you are passionate about and ask, "How can I help?" You'll be given more options than you'll know what to do with, but at least you'll be making a difference. One of the biggest ways you can help is to contribute financially. Even if you can only give $5 per month, that's $60 per year!
Have you done a song about any of these topics?
Our band has many songs talking about social justice and personal experiences with it. We also donate 100% of the profits from our second release, a dance remix of our first album, to cancer research. We're also starting a non-profit organization aimed at fighting bullying in schools – even better than a song!
How would you define social responsibility?
We're all a part of the planet and each one of us has an obligation to create sustainable living for our communities: economically, environmentally, and through social justice. In other words, don't be a jerk: help make it a better place for us all.
Quick list of artists:
Divergent Studios in Poplar Bluff, MS!
Name: Aron Moxley
What is your job?
Lead singer for The Slants – I play the microphones!
What social causes are most important to you?
Human rights and animal rights. Abuse towards children really po\isses me off. Whether it's physical or mental harm or not getting them enough to eat. Shit, I know it's tough and times are bad. I've lived out of my car before but if you have children then you have to strive and roll differently. You need to straighten your perspective and get proper. And animal abuse really gets me fired up.
Portland is full of real homeless people. But then there is this fake homeless culture that stands at intersections, on-ramps, and off-ramps of highways begging for change with their dogs. Just really bums me out. I know a lot of them aren't really homeless and they're actually taking resources away from people who are. Outside of this bar I frequent, there was this one guy that would stand outside with a sign that said "very hungry" and he lived by my friend. He wasn't homeless or hungry. Bar customers would buy him food when they would be leaving and as soon as the nice people would turn the corner he'd throw the food away. I'm not saying don't have compassion for real homeless people but this guy was faking the funk. So the bartender told me he hides his sign in the bushes behind the bar. So I went back there late one night and switched his sign out with one that said "very horny" instead. It's been 3 months and he hasn't been back.
What charities do you support – and how?
I volunteer at the only no-kill dog shelter in Portland called Family Dogs New Life 3 days a week (unless we're on tour). We're not just walking cute puppies – we're helping nurse abused dogs, clean their crates, and many baths for dogs who don't like baths.
You have to watch their "Piteo" videos! They're pitbull videos set to a song, theme, and acting. They are super funny. Go, go see them now!
Why do you have a passion for this one in particular, is there a personal tie?
The program directors for the dog shelter used to be in a punk band with me over a decade ago called "Evening at the Black House". And the fact that I'm there 16 hours a week.
Is there a particular way you would want to encourage readers to be involved?
In general, going to your local shelter or humane society to help is awesome. Donate food, bleach, toys, blankets, towels, etc. And people, please spay and neuter your pets! Never buy a dog from a breeder! Also, Pitbulls are sweethearts!
How would you define social responsibility?
A couple of ways. One is kindness with empathy. You need to treat everyone with respect and help your fellow human. The other one is compassion. You need to be compassionate towards others.
Do you have any tattoos that relate to your social work?
I have one that is of an old Chinese man sitting on the river bank flocked by dragonflies and turtles, it represents my love for animals. There's a waterfall in the background, wind bars filling in the negative space. That piece was done by Lewis Hess of Portland's own Atlas studios. He used to be my roommate.
Quick list of artists?
My Vietnamese name rattled down my spine (Hour Cong Do) by Kimbra Schlater. The left half of my stomach and chest of a sumo wrestler throwing water like in the traditional Japanese tuxedo style. My head is tattooed with 4 Vietnamese stars. These represent my pride in my cultural heritage.
Check out: jme Thomas' Motley Zoo